Birds
Green Heron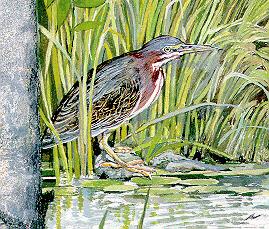 Painting Courtesy of Gary Walker
---
Note: The blue text is often linked to other sites. To stay with "The Long Point School House", use your browser's back button.
---
Long Point has been an important focal point on birds and their migrations with studies done by scientific organizations as the Long Point Bird Observatory. Long Point as a reserve for wildlife, does have human impact on bird species. Birds have long worked their biological clocks on this Earth, which, like the Earth, their behaviour relates directly to the Sun.
---
Sound Files
NETSCAPE users can retrieve .WAV sound files by clicking once on the "SPECIES SOUND" with right mouse button, "Save Link As" from menu to the desktop. Double click on the .WAV file icon saved on the desk top.
---
BIRD INDEX
---
Back To

Flora & Fauna
---
Design by:

Pagoda Vista