Striped Skunk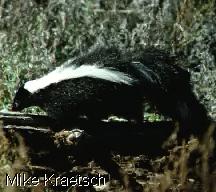 Mephitis mephitis
The striped skunk is the most common of the thirteen species of skunks found throughout North, Central, and South America. Skunks are known primarily for their ability to spray a foul-smelling liquid when provoked. Spraying ability develops very quickly after birth, usually by the age of one month. Although skunks can spray their victims at a maximum range of 4 to 7 m (13 to 23 ft), they are most accurate at distances of 1 to 2 m (3 to 6 ft).
Mike Kraetsch/Oxford Scientific FilmsLibrary of Natural Sounds, Cornell Laboratory of Ornithology. All rights reserved.
Striped Skunk," Microsoft® Encarta® 96 Encyclopedia. © 1993-1995 Microsoft Corporation. All rights reserved.
---
Back to Mammal Index
---
Design by:

Pagoda Vista