The Whiskey Ship, "City of Dresden"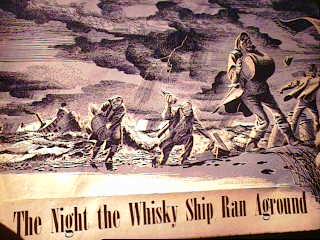 Paintng by McLewis, courtesy of Harry B. Barrett
City of Dresden
"The Night the Whisky Ship Ran Aground"
Story edited from Harry Barrett's "Lore & Legends by: Gordon Lawrence
There are many stories of Rum running at Long Point during prohibition. None is told more often than the tragic-comedy of the wreck of the City of Dresden.
This was a decrepit wooden steamer carrying 1,000 cases and 500 kegs of Corby's best, destined for "Mexico" via a Michigan port. Most were placed in the hold, but several large kegs of "Old Crow" were lashed securely in place as deck cargo.
On November l7, l922 Captain John Sylvester McQueen, determined to make his deadline, plunged her bluff old bow from the Welland Canal Locks into the white-capped seas of Lake Erie, though a storm seemed imminent.
But afternoon conditions had worsened considerably, and Captain McQueen was relieved to see the low outline of Long Point come into view. He dropped anchor in the deep, relatively calm waters of Gravelly Bay, where he thought he could remain in safety until the westerly gale blew itself out. But with little warning, the wind shifted into a strong northeast blow, which put the vessel in immediate danger of foundering on Bluff Bar. Realizing the limitations of the old engines, McQueen ordered that a part of the deck cargo of whisky be jettisoned, then inched painfully eastward again to clear the long submerged bar off the very tip of Long Point. Great walls of water surged skywards around him to heights approaching fifty feet; the pounding opened seams in the ship's side and she began to take water faster than the bilge pumps could remove it.
On the Point, a lone patrolman from the lifesaving station had been walking the north beach and watching the vessel for some time. He was relieved to see her gradually weather around the Point. Suddenly a more interesting object, almost at his feet caught his eye. It looked like a whisky cask, and now it was plain that similar objects were being washed shoreward, almost to his feet. Rolling the keg above the reach of the waves he took a refreshing draft before replacing the bung securely and burying it in the wet sand. During the remainder of the afternoon he buried over forty kegs and cases, using telephone poles as markers.
Meanwhile, the Dresden, having gained some shelter on the south side of Long Point, attempted to set her anchors. But they dragged as the seas continued to batter the straining hull. Captain McQueen steered a course for the cove near the line between Houghton and Malahide Townships, but as the roar of the breakers increased, it became increasingly obvious that she would never reach it.
The long wail of the Dresden's distress call had, by this time, made several people on the shore aware of her predicament. Charlie La Chapelle, called his boss Charlie Fowster. Pulling on his boots they drove to the beach. Stanley Skuce and Lea Beaupre were already on the beach. "Boys," said Skuce, with a touch of excitement in his voice, "that could be a whiskey boat."
Ben Harris closed up his gristmill and headed towards the cove. Mrs. Delbert Rockefelller and her niece, Violet Blackenbury, were alone in their brick house along the shore. Harnessing their fastest horse, they drove their buggy onto the beach.
All watched helplessly as the City of Dresden struck the outer bar several yards off and almost at once began to break up. The crew made an unsuccessful attempt to launch a lifeboat only to see it swept away. They all got into a second boat; it capsized and Captain McQueen's son was swept away and drowned. The others righted the boat, but without oars in a strong undertow, they could not beach it.
To this day there are conflicting reports of what happened next. Papers of the day and Engineer Roy Sawyer claim that Pearl Rockefeller and her niece single-handedly hauled the boat to safety Charles La Chapelle and others insist that Pearl never got out of her buggy. Nine witnesses reconstructed the fast moving events after the ship first struck to make the following statement to the Toronto Globe a few days later. "The lifeboat drifted nearly half a mile down the lake with the current, then a line was thrown ashore and some half -dozen or more people, Mrs. Rockefeller included, drew the boat up on the beach so fast all but the captain got ashore themselves. Who ever did it, the crew was saved and hustled into warm houses. Then the fun began in earnest for the people of the Long Point area. As the ship tore apart, cases, kegs and bottles were scattered along the beach. News of the wreck and its cargo spread like wildfire throughout the district. People of every walk of life, in every imaginable form of conveyance soon converged on the beach west of Port Rowan.
Whisky was trucked, teamed or carried off in bags all night long and well into the following day. Some people buried a great deal in the sand or in the swamps nearby. Others noting their neighbours catches, returned when it was quiet to dig them up.
Some others could only think of the long dry spell they had been suffering through and relieved their thirst on the spot. One elderly and normally sober resident of Port Rowan was reportedly found straddling a full keg of whisky while brandishing a partially empty bottle in each hand and shouting "This keg is mine, all mine and there ain't nobody going to get her away from me. "As he offered a snort to three young fellows who found him weaving in the imaginary saddle of his keg, they gently lifted him onto a nearby log, removed the keg, and left him still groggily chanting "She is mine, all mine...."
Nobody can explain why it too until late Sunday afternoon to notify the revenue inspector Dickie Edwards of what was clearly a gross violation of the Temperance Act. When he did arrive, his attempts to run down the illegal cargo met with little success. As Ben Harris tells it, "Several fellows were hauled into court in Simcoe but when Edmond's witnesses got into the box they couldn't rightly remember much about what happened. Some paid fines all right but nothing serious."
Del Rockerfeller did have some trouble. The police found ten incriminating rings where whisky barrels had marked the floor of his wagon and he was fined by the authorities. He had also sold a large part of his cache to a bootlegger and taken a cheque in payment. The cheque bounced.
Inspector Edmonds was especially suspicious of the parole man who had been first on the spot and buried so much of the cargo at Gravelly Bay When questioned the man cleverly admitted to "finding a few bottles" which he would of course, turn over to the authorities. Before Edmonds could get to the lifesaving station, the patrolman alerted a crony to what was up and had one case of Old Crow dug up. Then, on reaching the spot, he put on a display of righteous indignation, over someone having stolen his whisky. Edmonds pointed put that such ill-gotten gains could only bring him trouble and it was as well for him that only a broken case remain. The inspector returned to the mainland to seek out other lawbreakers feeling well pleased over the fate of the lifesaver. He would not have been so smug had he realized that at that very moment the man was moving the other forty-one cases to a safer spot. He later realized an average of $60 one farmer had laid out a case for them, which was said to have paid off his mortgage.
Very little of the Dresden's cargo was ever discovered by police. After the officials left, liquor was removed from cisterns, hollow trees, manure piles, and haymows. One farmer had laid out his spoils on a plough furrow, then carefully ploughed another round to cover them. Yet, another ingenious farmer had completely baffled police, though they searched his home and outbuildings more than once. When all threats of discovery passed he quietly got his ladder out and retrieved several cases from his large barn's evestrough where the bottles lay end to end on both sides. "Sure it didn't rain for a few days," he was heard to say laconically.
The next summer Captain McQueen and Sawyer returned to salvage the Dresden's engine and while freeing it from the sand were repaid with am unexpected bonus-a keg of Old Crow.
To this day an occasional reminder of "the night the whiskey-ship ran aground" will come to light. Lorne Brown, while light-keeper, found a gray sandblasted and frosted bottle on the exposed face of a dune. Stuart McNeilly and Howard Stewart told of, reaching down a cottontail 's hole to retrieve a ferret they were hunting with. Suddenly Stew's hand came in contact with a neck of a bottle. On bringing it out to the light it was found to be "Old Crow".
When Hastings began to build cottages on the beach west of the causeway, the workmen uncovered more than one barrel or case of buried " treasure". Much of it was probably, from the City of Dresden, but no one knows how many other rumrunners left catches, intentionally or not, in the sands of Long Point.
---
Back To Lore

---
Design by:

Pagoda Vista